RITUALS FOR LEAGUE PLAYERS
"Tennis is a perfect combination of violent action played in an atmosphere of total tranquility"
-Billie Jean King
Psychologists have studied the role of rituals extensively. In one experiment birds were fed at irregular intervals and some birds were seen to move their head in a particular direction when fed. This ritual was theorized as being a way the birds thought: that turning their head in that direction would somehow increase and improve their chances of being fed.
So in tennis,doing things in a particular way or order is believed ( by many players) to produce a certain,repeatable and positive result. To take that one step further, it also quietens the mind and helps in regaining focus. It is similar to repeating a phrase to meditate.
If you have a set routine in between points you will improve your efficiency. It might be

straightening your strings

,

bouncing on your
feet,

toweling off

,
bouncing the ball a set number of times before you serve

,

humming the same tune or even chanting your pet's name !



What this does is streamline your neuro-muscular system to fire almost as consistently as your ritual. It also focuses your brain on a neutral act that

makes you relaxed and less fearful of consequences.
So invent your own ritual and you will be amazed how well it works and you can appreciate what Billie Jean King meant !
*************************
RITUALS
Nadal's infamous pre-serve routine
Many if not all players on the pro-circuit have a ritual or superstition: Ivan Lendl plucking his eyebrows before serving,John McEnroe wiping his forehead with his shirt sleeve or the famous Nadal scratch. Nadal also has another odd ritual
: he brings only 2 water bottles to a match, with matching labels. After each set, he takes a sip from each of them, and then lines them up side by side with the labels facing the baseline of the side he is playing.
Nadal's water bottle ritual
"They create order on the court and thus in my mind",states Nadal.
Players have some strange and not so strange superstitions. Angelina Gavaldon,a former top 100 pro from Mexico

used to sit in an empty bathtub with a friend the night before before a match

. Many players eat in the same restaurant at the same table and even eat the same meal at major tournaments. Jim Courier wore the same soiled hat for all his matches when he won his first French Open.
Novak Djokovic is said to refuse to use the same locker room shower twice in a row, while Serena Williams is known to tie her shoelaces the exact same way every game, use the same shower before a match, and wear the same pair of socks throughout an entire tournament.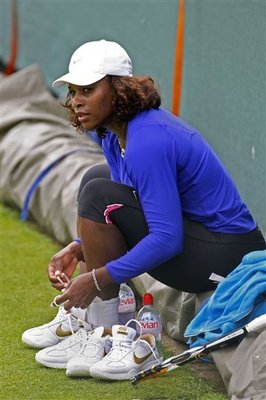 Serena Williams ties her shoes the same way
Here are some of the players' superstitious beliefs:
Next time we will examine how rituals can help League Players !!
Until then, here is a send up of rituals made famous by Novak Djokovic at the 2007 U.S. Open
:
Spring League Play offs continue !
Kevin Dodd (left) and Ravi Ramaswami after their Men's A Singles Finals
Jim Donovan and Jacob Feinberg were locked in a battle of titanic proportions. In this extremely close match,Donovan came from behind and defeated Feinberg 4-6,6-4,10-8

.
***************************
FALL LEAGUE KICKS OFF !!!
The 2012 Fall Tennis League is bigger and better !! The League has grown very competitive and it seems to have helped a lot of players improve their match as well as tennis skills. Proof of that is the fact that

many players have moved from 'C' to 'B' and from 'B' to 'A'

. We even have
for the first time EIGHT women playing A Singles !
Remember that you are going to experience playing tougher opponents as you move up the ladder. Rather than become disappointed if you lose to them, view them as setting the bar higher for you. Enjoy yourselves through the fall and winter !!
***************************
For the love of tennis.....
Eat,sleep,play tennis...How can we argue with that ??
Left to right, Andre Janums, 12, Christina Demosthenes, 12, Jake Viertel, 14, and Paula Baez, 15,
all played in the recent NJTL Junior Tournament in Kingston
****************
COURT ALERT !!
MJM COURTS unavailable
from
4-6 pm 8/13/12-8/17/12
as they will be used for NJTL Girls' tennis clinic !!
**************************
PLAY OFF UPDATE
Kevin Dodd enters the Men's A playoff Finals after defeating Ed Rogers (right)
*******************************
2012 FALL TENNIS LEAGUE
DRAWS POSTED !!
*************************
Interview with Ron Woods
Ron Woods is the Father and biggest benefactor of Ulster County Tennis. Apart from being an avid tennis player,Mr.Woods was instrumental in starting the local National Junior Tennis League (NJTL) program which has been helping the youth of Ulster County develop the love for tennis. In fact virtually all the local tennis scholastic tennis players got their start at the NJTL program he founded. All the local champions- past and present,USTA ranked and collegiate players began their tennis journey with the NJTL. Since the last 40 (that's right FORTY) years the local NJTL that Ron Woods started has produced players who are presently residing many miles from here-even abroad- and who gratefully thank him for steering them toward tennis.
Mr. Woods is still active in promoting the sport,patronizing the NJTL and recently gave a generous donation of $20,000 to help renovate the Forsyth Park courts to let tennis players continue to enjoy the sport he so passionately cherishes.
He is indeed a true ambassador for the sport and we,especially League Players,should be eternally indebted to him. Let's hear him speak:
************************************
Take your (allotted) time !
As per the rules,

you have

2 minutes between sets,90 seconds while changing sides,20 seconds between points and a few seconds between first and second serves.

Most people tend to rush through without pausing,regrouping or even breathing !
Take a look at some of the top players on TV. You will always see them making use of their time ( sometimes more than allotted ) either by glancing at their strings,towelling off or bouncing the ball before serving. What they are doing is to re-focus and get mentally prepared for the next points. They even have unique rituals (more on rituals in a forthcoming article).
So try to walk to the back fence after every point,don't rush your serve,bounce the ball before each serve or just
take a breather like Sharapova is doing below.
Maria Sharapova straightening her strings as she gets ready for the next point
Bounce the ball a few times to get into rhythm
Justine Hennin pauses and glances at her opponent before each serve
Sports psychologists feel that if you get into a routine of doing things a certain way each time, then what follows e.g. serves or returns will also tend to be uniform. Let your inner peace shatter your opponent's !
*********************
AIRBORNE !!
Bradley Hack getting centrifugal lift from body rotation
Future League Player,Bradley Hack the son and coach of current League Player Steve Hack ( Men's A Singles) shows the anti-gravity effects of body rotation. (We have seen these images on the pro-tour during serves and grounstrokes).
During the backswing-in this case the forehand- body rotation causes the upper body to coil up and the knee bend causes the center of gravity to lower.
In a well executed shot, such as the one above,the force is stored in the legs and coiled upper body.

(Hence the importance of bending the knees and coiling the body).
When the forward swing begins, forces start to get unleashed from the ground up with the bottled up power travelling first from the legs and when the legs straighten into the abdomen and finally into the uncoiling upper body .
This is almost akin to a tightly wound spring uncoiling or a helicopter lifting. The vector of forces generated travels spirally upwards from the legs, drive the body up and launch the feet off the ground. You will not find a more classic example of the energy transfer than the above picture.
****************
Inspiration from the London Olympics for League Players:
The Blade Runner
Olympic star Oscar Pistorius from South Africa was born without fibula bones and his legs were surgically amputated when he was 11 months old.
******************************
Signalling in Doubles
What works in Beach Volleyball works better in Tennis !



Doubles is a game where partners set each other up and complement each other during a match. One key way to communicate is by signalling.
The net player signals with his/her hand behind the back and transmits information which might be as simple as whether the net person is going to stay or poach. Or it can include communication regarding where the server is going to serve and where the net person is going to move. A lot of seasoned doubles players use hand signals in addition to talking with their partner.
Why use hand signals when you can talk ?

The answer lies in the psychology. Signals and the server's verbal acknowledgement can cause the receivers to pause for thought. Secondly it is more convenient to go to the net and signal rather than walk to the baseline and talk. Finally when the receivers position themselves,the net person can then better determine what to do and signal at the very last minute.
Here are some commonly used signals:
This indicates that the net person is going to stay put



This tells the server that the net person is going to poach
While playing the Australian or I formation this indicates where the net player is going to move
Signalling can really help partners coordinate their game and play better. Try it !
**********************
Little Nadal
Though in Spanish,this video features 12 year old Rafael Nadal playing (and losing) a junior match. As you can see his strokes were not the powerhouse they are now. He had to keep working to improve and he finally did. So there's hope for all of us !!
The Modern Forehand
The modern forehand is a product of better racquets,polyester strings,unorthodox technique and fitness levels. No longer do you see players hit the old Chris Evert method of "racquet straight back,non-dominant hand in front and follow through in front of you" linear stroke. Rather the shot is a "racquet looping away from the body,non-dominant hand to the side and follow through to the opposite side" rotational stroke.
The 'racquet back-left arm in front' linear forehand is seldom, if ever, used by modern players.
Chris Evert's game would not measure up adequately to the modern style of 'big babe tennis' involving tremendous pace,topspin and angles.
Roger Federer demonstrates the new 'racquet facing the side-left arm to the side' rotational forehand
Even players at our level can hit the modern forehand as demonstarted here by our very own

Jihyuk Han:
Open stance,left arm to the side and body fully coiled
In the first picture,Jihyuk has remained in an open stance,much reviled by traditional coaches. His left arm is to the side rather than out front which helps him with body rotation. He is thus also coiling his body to add a rotational component to his shot along with a linear one.
Piouretting like a figure skater,Jihyuk uncoils into the shot



In the second picture,above, notice how much Jihyuk has uncoiled. His left shoulder facing the net in the first picture is now facing the side screen,imparting tremendous centrifugal force into the shot.Even though he is hitting with a western grip (palm under the handle),this shot can be hit with any grip as shown here by John McEnroe (who plays with the old fashioned continental grip).
Jihyuk has completely uncoiled and has the 'windshield wiper' finish-a hallmark of the modern forehand
Finally observe,above, how much Jihyuk has uncoiled-his right shoulder which was facing the fence in now facing the net and his left shoulder is now facing the back fence. His racquet finishes to his left side exerting a tight spin to the ball. This is a far cry from the 'straight back to straight front' racquet path which used to be taught. The modern forehand helps Jihyuk put a lot of topspin and pace when he hits and also increase his margin for errors since most of the shots drop in due to ball rotation.
***************
The wrong and right way to hit a backhand
The commonest mistake players make while hitting a backhand is improper weight transfer. The weight has to be travelling FORWARD while hitting the backhand. If it does not then the the player is off balance and the shot often sails long.
Jihyuk Han ( Men's A Singles) demonstrates what can go wrong and then how to be positioned to hit it right.
The wrong way:
Though the ball is in the center of his strings,Jihyuk's weight is on his back foot.Note he has lost his wrist angle as well.







In the first picture, Jihyuk's weight is on his back foot as he hits the ball. He is also leading with his racquet head rather than the hand.This will force him to scoop the ball up or make last minute adjustments to compensate for this-either way resulting in a weak shot if it lands in.
Jihyuk is falling backwards as his shot leaves the racquet
The result of this improper weight transfer is less power to the shot,inconsistent placement and inefficient recovery for the next shot.
The correct way:
Jihyuk is stepping forward as indicated by his backfoot's heel rising. Note his straight arm and wrist angle
In the picture,above, Jihyuk is stepping in and leading with his racquet butt cap and hand BEFORE he pulls his racquet head through in contrast to the first picture where his racquet head is leading.
Jihyuk's balance is more controlled compared to the first set of pictures and he maintains his wrist angle all the way through the shot and his left arm is moving back in the opposite direction
The correct way to hit is to step in and transfer the weight to the front foot,as Jihyuk does above. This can be achieved by turning the shoulders and preparing the racquet early and then stepping in with the front foot so that the vector of forces is aligned toward the target. As you can see,Jihyuk finishes the shot well balanced,weight moving forward and a solid,confident follow through.
****************
Muslim Tennis Players
Contrary to the beliefs of the ignorant(which may or may not include House Intelligence Committee member Michele Bachman), most Muslims are not terrorists. Historians agree their religion, culture and contribution to science and mathematics go back hundreds of years-long before Western civilization,as we know it,existed. Muslims are, in fact, very productive people who are family oriented,have strong moral values and fiscally conservative- or in other words,very much like Michele Bachman!

For people of the Islamic faith,this is the Holy Month of Ramadan

and

as a tribute we would to like to honor and present

some of the Muslim tennis players on the pro tour past and present:
Males:
Marat Safin - Russia
Younes El-Aynaoui - Morroco
Karim Alami - Morroco
Aisam el Haq Qureshi-Pakistan
Mohammed Al-Ghareeb - Kuwait
Mohammed Abdulla - Qatar
Mansour Bahrami-Iran
Females:
Sania Mirza - India
Selima Sfar - Tunisia
Dinara Safina - Russia
Arvane Rezai-France
Tamira Paszek-Austria
India's #1 female player and 2-time Grand Slam Doubles winner Sania Mirza
Sania Mirza is an exciting player who has had some good wins in both singles and doubles. She is presently part of India's Olympic Squad in London. She has won the French,Australian and Wimbledon in Mixed Doubles.
Sania Mirza with mother in traditional dress











Morocco's El Younes Aynaoui
Morocco's Karim Alami











Tamira Paszek of Austria
France's Arvane Rezai
Rezai has wins over Sharapova and Serena Williams



























Shahar Peer of Israel(Jewish) and Sania Mirza of India (Islamic) have played doubles together many times.
Muslims and Jews can get along as Sania Mirza and Shahar Peer of Israel demonstrate here
So
have Rohan Bopanna (India) and Aisam Qureshi(Pakistan).
India and Pakistan are border enemies and have fought several wars. When Bopanna (India) and Qureshi (Pakistan) played the U.S. Open Doubles finals, the U.N. Ambassadors to India and Pakistan were sitting together in the crowd cheering for their
combined team ! Sadly the media did not give the event the coverage it deserved .
Tennis players Rohan Bopanna (India) and Aisam Qureshi (Pakistan) did what no politician ever achieved--harmony between border enemies India and Pakistan
The media also neglected to properly cover Qureshi and Andy Ram of Israel as they played together at Wimbledon.It is reported that many spectators were so touched that they cried watching them play.
Jewish pro Andy Ram and Muslim Qureshi at Wimbledon




As far as Mansour Bahrami goes,this Iranian player draws more crowds than even John McEnroe on the senior tour. Here is why:
So in tennis,religion does not matter and politics is a non sequitur. These players have taught us a thing or two about peace and harmony. May they continue to teach the world from the tennis court,
Insha'Allah.
*******************************
Why we love the Russians !
That's right,we love the Russians even at the risk of incurring the wrath of the practitioners of McCarthyism or a letter calling for an investigation from Michelle Bachman !! There are several reasons why we are guilty of this dastardly act. First of all, Russia has produced more high quality tennis players than any country in the world.
The Russian Davis Cup contingent
Projected over a period of time and based on results on the pro-tour,they have collectively surpassed the results of any other tennis playing country including the U.S.A. and Australia. The latter countries have had several great players who have stood out but once you take away the biggies like King,Evert,Connors,McEnroe,Newcombe,Laver, Rosewall,Sampras etc; you will see that quantitatively speaking, players from Russia have had the most amazing results.
From Alex Metrevelli in the 1960s Russia has produced enough top notch players like Cherakasov,Chesnokov,Kafelnikov,Youzhny and Safin as well as extraordinary female players like Morozova in the 1970s as well as Dementieva,Kournikova,Sharapova,Myskina and a whole bunch of Ovas that have not only done well on the pro-tour but also have been extremely marketable for their sponsors.
Elena Dementieva
at Roland Garros
Anastasia Myskina,like Anna Kournikova, has been proficient on court and marketable to
sponsors.
Of course,another reason we love the Russians is

that

Russia is the country which,apart from the United States,has the most viewers of this web site !
So to our Russian fans from us- Привет и Спасибо !!
***************************
Players' musings at the Ulster Open
( Will help League Players !)
Donna Viertel speaks out
League Player Donna Viertel made a splashy debut at her maiden Ulster Open Tennis Tournament. Here she speaks out regarding her tennis journey from the minor leagues to becoming a more formidable player. All League Players will benefit from her words of wisdom.
Maurice Green
Maurice is another player who has risen up the rankings and is now in the top 10 in the East in the Men's 45 age division. He too has interesting tips to help League Players improve.
**********************
10 Memorable Moments from the
2012 Ulster County Open
1. Best serves :

Andrew Constant- who hit the corners time and time again in both the semi-final and finals.
2. Best comeback :

Jonah Berkowitz- Down by a set and 3 games,Jonah went 3 sets in both his first and second rounds.
3. Best verbal comeback :

Karen Gill when told that her singles opponent was a 10.0 mixed doubles player-"This is not mixed doubles !"
4. Best endorsement of our web site:

Both Men's Open finalists,Andrew Constant and Greg Tellier credited this web site for giving them strategic ideas for matches they won.
5. Best attitude :

Ray Amell,when asked what went wrong after losing 0-6,0-6 in doubles-"Actually everything went right. We just lost the match !"
6. Best strategy:

Ray Amell when asked about change in strategy when he was trailing 0-6,0-5 in the above match-"What I need to change is my partner !"
7. Best philosophic musing:

Greg Tellier,after his quarter final victory, when referring to his opponent's ability in keeping the ball in play-"Today I was the student and he was the teacher".
8.Best match:

Senior Doubles Finals. This was top quality doubles play in a close match that entertained the crowd- with both teams agreeing that it was one of the best doubles match they had ever played in.Final score :6-7,7-6,10-7
9. Best celebrity sighting :

Future tennis star Sofia Tellier,the baby Terminator,watching her dad Greg a.k.a. The Terminator play the Men's Finals(scroll down for picture).
10. Best original quote :

Anthony Sicari,after losing to Ravi Ramaswami- "Today I got Swameed !"
*******************
The Picnic
For those of you who missed the wonderful picnic following the Ulster County Tennis Tournament, here are some pictures to help you share the mirth.
Dawn Kitner (L) with her doubles partner High Priestess Milly Back
Revelers at the picnic
Tom Turco with co-tournament director Scott Taylor-a job well done !
Fred Maynard
The new Ulster Open champion Andrew Constant received his trophy from his proud dad,Bill
Dawn Kitner,Women's runner-up
Olga Ostrevetsky Women's Champion
M
Co-directors Scott Taylor and Tom Turco also were Open Doubles Champions
Vern Chrisjohn and Maurice Green Senior Doubles Champions
Wayne Schaeffer, Senior Men's Champion
Ann Gorick,Senior Women's Doubles Finalist
Sanchia Playfair and Barbara Bayer Senior Women's Doubles Champions
Ed Rogers and Wayne Schaeffer Century Doubles finalists
Jim Steinberg and Matt Canzonetti (with a relieved smile having found his wallet) Century Doubles champions
Jen Crego and Ben Leighton the Open Mixed Winners
Future Ulster County Women's Champion Sofia Tellier with parents Angela and Greg
********************
Winning Doubles
To err is human. To put the blame on someone else is doubles !
It does not have to be that way . Here are 5 key tips that will help you win your doubles matches:
1.
Get your first serve in
even if it means taking some pace off. In doubles you have to cover just half the court. So don't sweat the hard stuff or the hard first serve.
2.
Communicate with your partner
. Among other things discuss where you are going to serve,what the net person is going to poach,strategy or just sharing a laugh.
3. It always is a good strategy to
go down the middle
with your shots. It cuts down the angle and also confuses your opponents. By the same token controlling the center of the court also is an advantage.
4.

Control the net

.

Doubles is won by aggressive net players. Attacking the net and putting away volleys are the hallmarks of a good doubles player.
5.

Have fun

. Misery loves company.Singles is a lonely game but in doubles you have your partner on the court to keep you company. Having a good rapport with your partner can make you play better and infuse bravado.

You will be amazed at how well you play when you are having fun

.
***************************
Just a thought : Do Martians play tennis on red clay courts ?
Recently released NASA picture sent by the Mars Exploration Rover
***************
3 Lessons from the Wimbledon Final
League players can learn 3 key match winning pointers from the 2012 Wimbledon Finals.
Try to keep the ball in play
1. Get the ball back in play.
Murray is the ultimate retriever. He may not hit the ball hard all the time but he keeps getting the ball back in play.Arthur Ashe said,
"If you can get 5 balls back in play in every rally you are most likely going to win the match".
Balls hit deep in the court are tough to get back
2. Hit the ball deep in the court.

Both players kept their shots deep within a foot or two from the baseline. These shots are harder to tee off on than even hard hit shots. By keeping the ball in play and keeping it deep in the court your chances of winning exponentially increase. To quote Jimmy Connors,

"You need to give your opponent a chance to choke".
3. Overheads need to be put away.
An overhead is not a defensive or rally shot. Rather it is a point ending shot. Even if you do not win it outright you should hit it as if it will be a winner or at least hit it hard enough that the reply will be easy to put away. Roger Federer hit every overhead with gusto.
***************************
July 4th Tennis advice:
***************************
Be aggressive on the return of serve
You can learn from Men's A singles League Player Kevin Dodd's aggressive mindset during the service return
The return of serve is generally one of the least practiced shot. Ironically, it is also one of the most important shots in tennis. Assuming you are holding your serve regularly all it takes is one break of serve to win the match. Even at the pro level, people with big serves,like John Isner and Andy Roddick, win only if they are able to break serves. Conversely their opponents win by breaking their big serves.
So how should you return ? Kevin,(see above),shows that it is with attitude.
The return of serve is an aggressive shot.
The server has an advantage. So you might as well be aggressive and take your chances. A lucky cut at the ball, a good mis-hit
or your opponent's momentary lapse of concentration..and voila you have broken serve !
Here are 5 tips to remember:
1. Have an aggressive mind set.
2. Plan on hitting to a specific target as you wait for the serve.
3.Turn your shoulders the second you recognize which direction the ball is going ( forehand or backhand).
4.It's the server's game anyway-so take a few chances.
5. If nothing else works,stand a few feet behind the baseline and hit it like a regular ground stroke.
*******************
Brian Baker-an inspiration for all of us
Brian Baker is this year's Wimbledon feel-good story. Plagued by injuries, that made him drop out of the pro-tour,he fought back to make a big impact this year. Watch this brief video about him and

remember that determination can overcome adversity.
***************************
Marquee Matches this week
While the Men's A League players decided it was too hot to play their matches, the B Women had a different idea. They played long matches in blistering conditions and proved again why they form the backbone of the League.
1. Andrea Grunblatt vs Sharon Crego
Undefeated Sharon Crego finally met her match in Andrea Grunblatt or did she ? This match played on one of the hottest days this year was a cliff hanger. The players split the 1st 2 sets with identical scores:6-3.
Andrea came from behind
in the super tie-break after trailing 4-8, and ultimately won 11-9.
"It took us from 7:30 to 9:30 pm on one of the hottest days",said Andrea
This sort of match could have gone either way but at least we feel comforted with the knowledge that Sharon is human !!
2. Andrea Grunblatt vs Donna Viertel
Players shudder at the thought that they are going to have a long day in the office everytime they step on the court against Donna Viertel-a task more formidable when the court temperature is in the 90s.
In this match,Andrea did win but very narrowly 6-4,6-4.
******************8
Here is a news article about the Spring League:
*********************
You might see a double rainbow...but we see tennis courts !!
High Priestess Milly Back and her Rain People would love these MJM courts !!
*******************
Even the pros have a tough time in windy conditions. When the wind starts to pick up you have to adjust your playing to counteract the ball movement:
1.

Keep your feet moving

. This will help you reach the ball as it drifts around.
2. Figure out:
which side is the wind blowing ?
Do you feel it on your face or your back ? Which direction is your hair blowing ?
Hair on a bad hair day can act as a windsock !!
3.When

playing with the wind

(breeze blowing on your back)

keep the ball low

over the net and

hit softer

.
4. When

playing against the wind

(breeze blowing on your face),

hit harder and higher over the net.
5.

Lob cautiously

when

playing with the wind

(breeze behind you).
6.

Lob deep

when

playing against the wind

(breeze on your face)-otherwise the ball might stall giving your opponent an easy over head.

Playing on a windy day can be frustrating but with a little ingenuity you can work it to your advantage !

***********************************
Heat Seekers Club (New Members)
Coach John Kasten with Jon Forsberg,Steve Hack and Jihyuk Han
Buoyed by High Priestess Milly Back's foray into the Heat Seekers Club, Rain Men Jon Forsberg, Jihyuk Han,John Kasten and Steve Hack decided to follow their leader and accepted membership to the Heat Seekers Club.
****************************
High Priestess heads Heat Seekers Club
High Priestess Milly Back ( the Rain People leader) with Coach John Kasten enjoying the sun for a change !
High Priestess Milly Back,the founder-leader of the Rain People has now also taken over the reins of the Heat Seekers Club
and declared that membership is now open
.
She also announced that
membership will be complimentary for League Players.
League Player hit in face in grudge match !!
It was Rain man against Rain man in an ultra grudge doubles encounter with League Player Scott Taylor and High Priestess Milly Back looking on helplessly as Jay Han and Ravi Ramaswami went eyeball to eyeball, mano a mano for a fierce volleying exchange at the net. Ultimately a well placed
( unintentional,of course !) volley found its intended target as Ravi,in an egregious judgement error,moved his racquet (instead of his face) out of the way.
Felled by a tennis ball with a bruised face and ego but ready for volleying lessons !!
**************************
The proper way to put an over grip on your racquet
And Nadal further wrote on his Facebook communication to us what LEAGUE players already know:
Heat seekers
Move over Rain People,there are new Sheriffs in town !
These highly worthy-of -the-highest-order-of-respect League Players ignored the 95 degree heat and 105 degree heat index warnings and chose to play their League matches. We cannot begin to express our deep felt awe for these amazing heat loving dehydrated dashers and crashers !!
The Heat Seekers: Bill Roberts,Francine Wizner (also a Rain People card holder),Joe Siuta and Maureen Rogers
(We also got scores from Clive Wright,Steve Hajek,

Mike Piazza, Nick Malvai and Rob Jankowski for matches played on this scorcher of a day)
Happiness is...being on the tennis court
When I was 5 years old,
my mother always told me that happiness was the key to life.
When I went to school,
they asked me what I wanted to be when I grew up.
I wrote down 'happy'.
They told me I didn't understand the assignment,
and I told them they didn't understand life.
- John Lennon
*************************
And when you cannot see the ball........you can still play tennis.
There are unfortunate tennis players who are blind but that does not stop them from enjoying tennis.
We should constantly remind ourselves how lucky we are....
**************************
How to stare down when you are staring up....
(Lessons from the French Open)

Novak Djokovic at the French Open
League Player Donna Viertel and World # 1 Novak Djokovic have one thing in common. They have a 'never say die' attitude on the tennis court. When you are staring up at insurmountable odds and are moments away from defeat,it is a point of no return and this is when you have to trust yourself to perform.

Last year in the U.S. Open against Federer and this year in the French Open against Tsongas, Djokovic survived match points and came up with incredible shots which were partly 'Hail Mary' but mostly a study in courage,confidence and resilience. All of us have been in similar situations and the key is to take charge and make things happen rather than hope they will.
10 things to remember when you are in this position:
1.
Embrace the challenge.
2. Don't even think of the potential result.
3. Don't hope for an error from your opponent.
4. Exaggerate your feet movement.
5. Focus on your breathing.
6. Don't think about stroke mechanics.
7. Keep your eye on the ball...
8. Keep your eye on the ball...
9. Keep your eye on the ball...
10. Keep your eye on the ball...
***********************************
FUNNY SCHOOL ANSWERING MACHINE MESSAGE
Nothing to do with tennis but (since school is out) listen to this Maryooch
ydore High School (Australia)
answering machine message sent by one of our readers from Australia......
*********************************
Let the sunshine in......
League players tired of the rainy week decided to mop the courts and play ! Here are some of the League Players who earned our respect:
Mother Daughter Duo of Sharon(Women's B) and Jen Crego ( Singles A). Sharon was last year's League MVP
Joe Siuta( B Doubles) defending against hard serving Adriana Kaufman
And that's Adriana with Firoz Bhamla enjoying League play !!
Maureen Rogers ( Mixed B)
Mike Hommel/Tom Turco ( B Doubles)
Hal Hauch/Nils Schlebusch ( B Doubles)
Live,laugh and play tennis is Firoz Bhamla's motto though not necessarily in that order !
********************
The Incredible Hunk shows you how to follow through on your shots !!

The Incredible Hunk,Frank Ferracane ( Men's B Singles)
The follow-through is the natural end to any ground stroke. Yet a lot of people do not pay attention to it and consequently have erratic strokes. Having a good follow-through helps you hit through the ball and also vary the height over the net. Even though what happens BEFORE the follow through defines your stroke,having a consistent relaxed follow through helps in consistent stroking
since what happens later is a result of what happened earlier.
Let The Incredible Hunk, Frank Ferracane ( Men's B Singles), shows you how it is done:

1. FOREHAND
A high follow through with an Eastern grip helps launch the ball over the net for a deeper shot
The high elbow is a vital component on the follow through
A slightly lower follow through keeps the shot lower. Again, the high elbow is important.
The windshield wiper finish adds a tight spin to the ball to enable you to hit hard and still keep the ball in the court.
Note the high elbow !
2. Backhand
On the backhand,people tend to reach the follow through position before extending into the shot leading to the racquet traveling up and the ball landing short on the court. Frank demonstrates the right way to do it.

Extend

forward

first BEFORE relaxing your arms.

Extend into the shot first. Note Frank's weight going forward and his back foot raised-a hallmark of good weight transfer
Frank starts to relax his arms but his weight is still going forward
It is only after his arms starts to relax,that Frank raises his head off the contact point. Notice his high elbow!
Arms naturally relax at the end of his follow through.This relaxation happens automatically after extending into the shot as the arms have no other place to go.
Emulate The Incredible Hunk, and your shots will get incredibly consistent !!
***********************
High Priestess welcomes the rain again !
High Priestess Milly Back counting the raindrops as rain moves in during her practice session
High Priestess Milly Back thanks all the new members who joined her Rain People Club. Leading from the front and practicing what she preaches,Milly had an intense practice session as storm clouds moved in and rain began to fall. Of course that did not faze Milly who leads by example !
************************
BIG FISH
Maurice Green ( Singles A)




We are referring,of course, to League Player
Maurice Green (Men's A Singles)
.
Maurice went undefeated in the 8.0 USTA Mixed Doubles League partnering with one half of the Dynamic Duo, Ashley Pietras ( Women's A Doubles). Aside from this he won a host of singles title catapulting him to # 9 in the East and # 93 in the nation. With an all round game, Maurice plans to participate in the nationals in Philadelphia next month.
Kudos to him and good luck. Glad to have you in our Spring League !
*********************
Milly Back's Rain People: New Members
The High Priestess' clan is getting larger every time it starts to pour. Rain is now a non-issue with all of these League Players:
Francine Wizner with Vicky (planning to join the Fall League)
John Dorfner drying the court with his leaf blower
Tom Turco
(" I love to watch him work", remarked a couple of the Rain Women referring-of course- to how he squeegees ! )
******************
High Priestess Millie Back's Legion Growing !
The 'Rain Men' have now become 'Rain People' !
While tornado warnings were being issued for Ulster County,these fine people joined the ever growing list of High Priestess Millie Back's Rain Men- showing up to play their League matches despite rumbling clouds, visible lightning and audible thunder !
Of course with the addition of Francine Wizner and Claudia Brown to the list, 'Rain Men' has now been officially re-christened 'Rain People'.
The one who started it all.....
High Priestess Milly Back, the founder and guiding light of the Rain People clan
Claudia and Michael Brown unperturbed by storm clouds above
Youngest Rain People inductee Mike Ma with veteran Rain Man Jihyuk Han and
that's rain not sweat
on Mike's T-Shirt !
Bill Roberts,Francine Wizner and The Terminator himself-Greg Tellier
So let's salute these dedicated players by joining the Legion !! ( You can apply in person or by email).
It's free !! No I.D. required !!
*****************
League Players Excel in Tournament Play
B Women's Singles Spring League Player Lisa Cutten
Congratulations to Spring League Players
( Women's Singles B)
Lisa Cutten and Melissa Bamford
for giving your best and playing in the Rhinebeck Tennis Club tournament !
Other League Players who did well in recent tournaments :
Vicki Madonna,Kevin Madonna ( Mixed A) and Maurice Green (Men's Singles) played in a hard fought USTA Mixed Doubles Regional play offs. Kevin also played for another USTA team in the Regionals and is preparing to play in the Sectionals while Maurice seems to win every tournament he plays ! He recently won the Tri City Memorial Day Tournament. That's 3 for 3 for the big Mo who now is ranked # 9 in the East and # 93 in the country !!
You guys rock !!
***********************
DY-NO-MITE !!!
MARQUEE MATCHES:
1.T.N.Thompson vs Jay Han (Men's A Singles)
T.N.Thompson exhibited the vintage tennis he is famous for in his League match
True to his initials, T.N. Thompson played an explosive match against Jay Han in one of our featured marquee matches this week. T.N. has one of the prettiest backhand you will ever see and possesses extraordinary volleying skills . In a marathon match against Jay Han,where they split sets with an identical score,the super tie-break went 12-10 in T.N.'s favor.
Technically just 2 degrees of separation !
Welcome back to competitive tennis,T.N. !!
2. Amanda Scott/Andrew Constant vs Jen Crego/Mike Jones
(Mixed Doubles A)
Andrew Constant and Amanda Scott
In a marathon match lasting over 2 hours,Scott and Constant outlasted Crego and Jones in a 3rd set super tie-break. Both Mike and Jen are home on college break and we are delighted to have them in our League !!

3. Adriana Kaufman/Firoz Bhamla vs Magdalena/Chris Drazek
(Mixed Doubles B)
Scores were 7-6, 3-6, 10-6 (3rd set Super tie breaker). Congratulations Firoz and Adriana and nice job Magdalena and Chris !!
Very very close !
What a squeaker !!

4.
Mike Jones vs Ravi Ramaswami (Men's A Singles)
Mike Jones --the Todd Martin of Ulster County !
We are so happy Mike Jones,home on vacation from college, decided to join the Spring League ! Since this was his first outing, Mike's game was understandably rusty and he struggled to hold his lead ( 5-2 in the first set and 3-1 in the second). Eventually his opponent came from behind to win 7-5,6-4.
5. Ed Rogers vs Kevin Dodd (Men's A Singles)
Kevin Dodd persisted but Ed Rogers persisted more !!
We saved the best for last. In this epic

3 hour

match, the King of Super tie-breaks,Ed Rogers, finally had one go his way.
Both players are extremely fit and relentless. Kevin with his persistent topspin and court coverage vs Ed and his uncanny ability to hit his back hand with an Eastern forehand grip and serves that kiss the service line.
Having lost the first set in a closely fought tie-break, Ed saved one match point in the second set to come back and take it 7-5.
The final score: 6-7,7-5,10-4.
Pees on earth
(
a guide to outdoor restrooms near tennis courts)
(Disclaimer: This article is not endorsed by the USTA, MHVTA, Kingston Board of Education, UCCC, Kingston Dept. of Parks and Recreation,
or the Board of Health,for that matter !!)
We received numerous emails lamenting Donna Viertel's plight at finding a restroom at a tennis court and having to play-and win- with a full bladder.
As tennis players we have all been through that ordeal and, as a public service mission, we tried to research this issue to help all Spring League players out there.
The results are based on detailed interviews with tennis players of both sexes and expeditions by our dedicated research team.
Our research came up with two major unsurprising findings:
1. The indoor facilities at most courts are either inaccessible or would not pass the scrutiny of the Board of Health or both.
2. Many League players (more than you think) have confessed to using the 'outdoor facilities' and actually prefer it.
So we decided to focus on 3 of these courts .
1. MJM( Kingston High School):
Path is just right of the entrance gate
Generally the grass alongside the path is not as overgrown as depicted
Just as you enter the courts on the right of the gate there is a narrow path that goes up an incline. The path is unfrequented and therefore affords enough privacy to do the deed providing you keep away from the poison ivy. Very popular among players of both sexes.
2. UCCC:
The trees at UCCC afford enough privacy in an emergency
The regular changing rooms in the building right next to the courts are not always available or accessible and the line of trees to the right of the softball field are the next best choice. Surprisingly private despite the open terrain.
3. Forsythe Park:
T

he outdoor facilities are located right behind the court next to the parking lot
Even though the park provides a rest room,it is definitely a health risk. It is much safer to walk a short distance behind the show courts where trees provide the necessary subterfuge even though you may occasionally run into a dog walker. ( This facility is very popular among canine tennis players)

Of course,we are not encouraging the use of the great outdoors to do your business but as a
female League player once eloquently said,"If you gotta go,you gotta go ! "
Especially if you've just lost the first set !!

*****************************
League Players shine in USTA
The Total Tennis USTA 8.0 Mixed Doubles team won their local division and are headed to Westchester to play in the regional playoffs !
Congratulations to Spring League players who are part of that team:
1. Maurice Green

(who also won 2 singles titles recently)
2. Ashley Pietras
3. Vicky Madonna
4. Kevin Madonna
5. Rick Lange
*******************
Marquee matches for the week
1. Donna Viertel/Linda Provenzano
vs Francine Wizner/Kathleen Grable
Have you ever played and won your match with a full bladder ?
Donna Viertel lived to tell her tale in that department ! Donna and the other players went to 3 different sites to play their match ! The first two had high school matches going on. ( Oops-they did not read the article on this site about home games at various courts !) . Then they descended on a lesser known set of courts in Loughran Park only to find no bathrooms.
Donna:
"
I really had to pee, but the bathrooms were locked and the place was crowded. We started to finally play, as I tried to ignore that I still had to go. It actually worked ! At the start of the second set, we were not sure we could get all the games in before dark, but we went for it. At the end, it was close to 8pm by the time we were out of there."
Wow, Donna,that is playing under pressure !!
2. Sharon/Randy Crego vs Melissa Bamford/Paul Mushlit :
Sharon and Randy won 6-7,7-6,10-8.
We were glad we didn't have to watch that match. The tension would have been unbearable to our bladders !
3. Ravi Ramaswami vs Ed Rogers
Ed Rogers returning serve
Ed Rogers is the master of getting into super tie-breaks. In fact,since the Fall League, he has played more super tie-breaks than any other player in Men's A singles ! That fact underscores how tough and unrelenting he is on the court. And he has an unfathomable backhand using an Eastern forehand grip ! In this match Ed fought hard and lost in another super tie-break which went to an agonizing 11-9.
4. Bill Roberts vs Frank Ferracane
Friends forever ! Bill Roberts and Fran Ferracane
before their match or was it after their match ?
No drama. Just

a match between two gentlemen played in the true spirit of the game

on an extremely pleasant Sunday morning.
We could all learn from them.
********************************
Not to be missed tennis books !!
Now that you are looking forward to playing your Spring League matches, rain in the forecast might put a damper on the proceedings. Of course, on those cool,wet days you could hunker down with a good book especially if it's about tennis !!
Here are our 5 favorite books on tennis
:
1.







Tennis whodunnit does not disappoint

Having a vested interest in tennis, we have always enjoyed stories with tennis in the background including the movies 'Match Point','Wimbledon' and 'Strangers on a Train'. The combination of tennis and Harlan Coben was therefore hard to resist. Coben always tends to write tightly plotted novels that do not just plod along but actually race with several twists along the way to the finish line. With the U.S. Open Tennis Tournament as the setting of the initial murder, the story integrates this with an earlier murder of a senator's son and a few other killings along the way. Nothing is obvious and what seems obvious changes constantly and the author devilishly takes the reader from one wrong assumption to another to a satisfactory conclusion. Definitely worth reading especially if you are a tennis player !

2. A Te

rrible Splendor
3.

(
Ghost written,of course !!)
Whether you love him or hate him,this book is written in an original style and that alone will keep the reader engrossed. There are also some key tennis instructions that will also help many League players especially the advice ( in colorful language) Brad Gilbert gives Agassi during the rain delay at the French Open Finals - which Agassi came from behind to win !!
4.
'Winning Ugly' is a tennis instructional book by Brad Gilbert that EVERY League player should read
.
'Nuff said !!
5.

The Art of Lawn Tennis by Big Bill Tilden
Common sense advice for tennis players by one of tennis' greats.
And it is FREE for Amazon Kindle users !!
**********************
Mixed Company
Karla Wainwright/Tom Turco and Linda Provenzano/Mike Piazza before their Mixed Doubles B match at Forsythe Park
High Priestess Milly Back with Anne Gorrick before their Mixed Doubles A match at Bard College
Mixed Doubles is very tricky for the female partner since all balls seem to get directed at them ! Yet these women are up for the challenge and in many cases carry their partner to victory. ( Just ask Karla Wainwright !) More importantly, they always have arrived on court to play in the Spring League and end up having a lot fun in the process !!
**********************
MARQUEE MATCHES THIS WEEK
1. Anne Gorrick (2) vs Sharon Crego (1)
This match had all the trappings of a great match up. Anne,who is a doubles specialist,

was playing her 2nd singles match in 23 years !!
Anne:

"We battled sun, wind, rain,

and some teenagers smoking pot next to us!
Also this kid kept kicking a soccer ball against the fence of the tennis courts, so we deserve some kind of award for simply making it through all the distractions. It made the US Open planes looks like child's play!"
Sharon:
"Anne is an awesome player and I can't wait to play her again!"
In this very closely fought match, Anne squeaked by Sharon 7-5,6-3.
2. Bill Roberts vs Nathan Borsky
Friday the 13th could not have been more exciting ! Bill lost the first set 2-6 and came back from behind to even the match 6-4. Not to be outdone,Nathan
made Bill play a tough super tie-break with Bill prevailing in a nail biter 11-9
!!
Bill: "With good execution Nathan,the king of chop,cut,and spin spin took the first set off me.
I then had a talk with himself ( yes out loud!) regrouped and managed to pull out the second...then on to a thrilling 11-9 tiebreaker ( the crowd went wild! )"
3. Kevin Dodd (4) vs Ravi Ramaswami (1)
High Priestess Milly Back's Rain Men Kevin Dodd and Ravi Ramaswami actually got to play in dry weather !
High Priestess Milly Back would have been proud of her Rain Men in this match where Kevin,trailing 0-3 in the first set showed off his agility,foot speed and frustration at not having a snowy ski season by coming back to level the score,take the lead and be within shouting distance of winning the set. Just a couple of points separated the two when Kevin dropped the set 5-7. The next set was also hard fought and in the end it was a fine day of tennis in perfect tennis weather !
*************************************
4/15/12
DRAWS UPDATED !!
PLEASE CHECK !!
************************
League Matches in full swing !!
Men'sB singles top seed Frank Ferracane in action
Mike Hommel (Men's B singles) prepares to return serve
Many league matches have been played and a lot more are planned for next week. With the weather warming up, call your opponents and set up your match !!
*******************
The best stringer in town !!
Greg Tellier a.k.a.The Terminator has a firm grasp on racquets and stringing


When you want to re-string your racquet or want advice on racquets and strings, who you gonna call ? String buster ! The Terminator,of course !!
Spring League Singles A player Greg Tellier a.k.a. The Terminator busts strings every other day due to his killer forehand but he is also a very popular stringer in the area. Why is he so much in demand ? Because he is very knowledgeable regarding strings and racquets

and his rates are very competitive and affordable.

In fact a lot of tennis players in the Spring League have used his services.
The Terminator strings racquets based on players' tennis skills and discusses with them which strings would be best for their game.

"I like to help players customize their racquet through weight,balance and strings", he says," and every player is different as they have different playing styles".
The Terminator gets his own racquets from Roman Prokes, who is the stringer/racquet customizer for many top 100 pros. (Prokes camps out at the National Tennis Center during the U.S. Open, where he spends 18 hours/day stringing the players' racquets).
So the next time you pop a string, don't fret--just contact :
The Terminator
at
gjtellz09@hotmail.com
!!
****************************
BREATHE !!!
Breathing between points helps you focus and relax
The name James McGee ring a bell ? Probably not. This young pro, who plays Davis Cup for Ireland is hardly a household name but he is the protege of our good friend, coach and former world top 100 player Jeff Salzenstein (
www.Jeffsalzensteintennis.com
) . James McGee recently won a pro tennis tournament (Singles and Doubles) in Europe and had this to say :
"For me, the biggest thing that helped me
last week was my breathing. I made sure
I took deep breaths during the match to really
slow my heart rate down.
It made a big difference to my focus and concentration.
It is a simple thing to focus
on but
sometimes you can forget to focus on your
breathing when you feel pressured in a match.

"
Breathing is something you can control. The tougher a match gets, the tighter your muscles get. One way to loosen up is to breathe between points and even exhale every time you hit the ball.
Andy Roddick breathing out as he follows through
Mary Jo Fernandez exhaling during her service motion
We always notice Monica Seles' and Maria Sharapova's loud screams as they hit the ball. They are in fact exhaling loudly ! Even though you don't need to get that dramatic, try to breathe out as you hit. You will notice your racquet stays on the ball longer and you will feel less tense.
Jeff Salzenstein's advice to James McGee regarding breathing in between points can really make a difference in a tight match. Just try it and you will be surprised !
And while you are at it, visit Jeff's Total Tennis Training web page at
www.Jeffsalzensteintennis.com
and your tennis skills will go to the next level !!
****************************
When do you restring a racquet ?
League player (Singles A) Wayne Schaeffer's racquet (Notice his frayed strings are in the CENTER of the string bed !)
You don't have to wait till your racquet looks like Wayne's before restringing ! Advice that most stringers at the pro level give is to string your racquet every year AT LEAST as many times you play in a week. So if you play 3 times/week then string it at least 3 times/year. This is regardless whether your strings look like they are in good condition. After you hit a few times the strings lose tension and the string bed can get 'dead' in a few weeks changing your feel for the ball and affecting the bounce off the racquet.
Advanced players tend to feel this change even sooner. Remember Ivan Lendl and Pete Sampras ? They changed to racquets with fresh strings every time there were new balls introduced in a match ! At our level we might not be able to afford that but changing strings at least a couple of times a year is a good idea or sooner if the racquet seems to lose its oomph.
(Of course,if you hit as hard as Spring League Singles A player
Greg Tellier a.k.a. The Terminator you may need to change them a couple of times a week !!)
The Terminator Greg Tellier (Singles A)
By the way The Terminator also strings racquets and does a great job at a reasonable price !
****************************



League Players excel in USTA Mixed Doubles League !!

The team consisting of many Spring League Players are excelling in the 8.0 USTA Mixed Doubles League.
How excellent are they ?
Well, at the present time they are the #1 team in the league !
League players Maurice Green ( Singles A) and Ashley Pietras (Doubles A) remain undefeated !!
Other Spring League players in the team include captains Vicky and Kevin Madonna ( Mixed Doubles A), and Rick Lange (Singles A).
Good luck guys and keep kicking asphalt !!!
***********************
Occupy Tennis Court Movement (Part 2)
FYI the following is a list of scholastic games at 3 venues.
1. This list,though accurate,is subject to change by the schools
2. Courts are unlikely to be available in the afternoon on 'Home' game days
3. Courts will be vacant on 'Away' game days
4. On all other days,courts will be available after 5 pm.
Forsythe Park,Kingston
Tue 04/10/2012 Away
Thu 04/12/2012 Home
Thu 04/19/2012 Home
Wed 04/25/2012 Home
Thu 04/26/2012 Home
Tue 05/01/201204 Home
Wed 05/09/2012 Away
Cantine Field,Saugerties
Mon 04/16/2012 Away
Tue 04/17/2012 Home
Mon 04/23/2012 Home
Tue 04/24/2012 Home
Thu 04/26/2012 Away
Tue 05/01/2012 Away
Wed 05/02/2012 Home
Thu 05/03/2012 Away
Mon 05/07/2012 Home
Thu 05/10/2012 Home
UCCC,Stone Ridge
Thu 04/12/2012 Home
Tue 04/17/2012 Away
Thu 04/19/2012 Home
Tue 04/24/2012 Away
Thu 04/26/2012 Home
Mon 04/30/2012 Home
Tue 05/01/2012 Away
Thu 05/03/2012 Home
Mon 05/07/2012 Away
Wed 05/09/2012 Home
*******************
OCCUPY TENNIS STREET MOVEMENT !!
For those looking for courts to play your league matches, the following courts have nets up :
1. Ulster County Community College,Stone Ridge(6 courts) --Scholastic practice till 5 pm
2. Forsythe Park ( 4 courts with 2 lighted courts)
-- Scholastic practice till 5.00pm
3. Cantine Field,Saugerties ( 4 lighted courts)
--Scholastic practice till 5 pm
4. MJM,Kingston High School (4 lighted courts)
--Scholastic practice till 5.30 pm
5. Loughran Park,Kingston (2 courts)
6. New Paltz Middle School (4 courts)
--Scholastic practice till 5 pm
7. Hurley courts ( 2 courts)
8. Rosendale Rec Center ( 2 courts)
Weekends: All these courts are generally available for play all day.
Later this week we will give you the scholastic tournament schedule for Rondout/Coleman/Saugerties. When they have away games the courts are free all day.
**************************
Spring League Inaugural match
Tomasz Andruczyk
Debutant Mike Cherry and Tomasz Andruczyk inaugurated the Spring Tennis League by playing their match today with Michael prevailing in 2 close sets.
*******************
DRAWS UPDATED !!!!
**************************
2012 SPRING TENNIS LEAGUE
It's time to celebrate: the games have begun !!
The Mid Hudson Valley Tennis Association's
2012 Spring Tennis League has officially begun. Players have already started to practice on the tennis courts,trying to shake away the cobwebs and loosening their winter induced rusty strokes. With over 75 players competing in 14 divisions,this is one of the most exciting tennis leagues ever organized in the Hudson Valley. For those competing,you are part of history !
New this year is a C division for beginners and less experienced players.
We thank intermediate player
Magda Toro and advanced player Jay Han who have graciously volunteered to play in the C league to help the C players gain valuable experience.
Also new this year are play offs for the final two players. The way that works is: The 4 players/teams (2 players/teams in smaller draws) who have the most points play against each other to decide the ultimate winner.
Of course,we have always maintained that each and every one of you is a winner because you have chosen to compete regardless of results !!
So make new friends and share a smile on the tennis court !!
Have fun and enjoy your tennis !!!